Brand Spotlight: 6 Reasons We Love the Honest Company (& You Will Too!)
The Honest Company launched at Well.ca (and in Canada!) last summer and we're still just as obsessed now as we were then! If you're already familiar with the brand (founded by superstar Jessica Alba and her co-founder Christopher Gavigan), you're probably just as smitten as we are. New to Honest? Now's the perfect time to try it for yourself!
Read on to find out why the Well.ca team loves The Honest Company, and why you will too!
1. It's Safe
The Honest Company's products are super safe, meaning they're made without any worrisome chemicals or compounds that you'd feel uncomfortable using on yourself or your family.

2. It Makes Our Lives Easier
We're the first ones to admit it – household chores are necessary, but they can be a real bore. We love that Honest makes green household essentials that are super functional and simple to use, which makes keeping our homes and families in top shape easier. Plus the packaging is gorgeous, which will help you feel better about doing chores – even the ones you really hate.
3. It's Made With Families in Mind
Co-founders Jessica Alba and Christopher Gavigan are both parents who are passionate about creating the healthiest, best future for their own kids and for yours. The Honest Company was born because they wanted to make safe, effective products for families (like ours!) that have the same concerns.
4. It's Responsible
From laundry detergent to bubble bath, they're all about making products that are safe for you, your family, and even the environment. Their products are not tested on animals, and they're passionate about using plant-based, organic, sustainably harvested materials when and wherever possible to make products that are better for the planet and your family.
5. The Products Are Amazing
From their soft but super absorbent baby wipes infused with botanical blends to soothe and cleanse baby's delicate skin, to this dreamy tangerine-scented bubble bath that's awesome for mom and baby, The Honest Company makes products that look great, smell great, and work even better.
6. They Share Our Values
At Well.ca, we're all about offering products that make for healthier, happier homes, and so is The Honest Company.  We're both committed to make it easy to make green and naturally-based options more accessible, and making the lives of our customers better. We love it when a brand we're crushing on has values that are so in line with ours!
Rebecca – our CEO – has 3 faves in particular:
The Honest Company Diapers: I have a lot of family and friends in the U.S. who were always raving about The Honest Company's diapers. I never really understood why until I finally got the chance to try them on my 15-month-old son. Watching Jack run around the beach with his little anchor print diapers is the cutest! They're just as just as absorbent as my usual go-to diapers, but without that 'diaper' smell (parents you know what I am talking about here!). I also really like that they stay snug against his skin at the back and don't gap like my current diapers. They're super soft, chlorine-free, and hypoallergenic – perfect for my son's sensitive skin. Plus, they're ridiculously cute. Seriously, how adorable are these prints?
The Honest Company Baby Wipes: These are my absolute favourite Honest Company product. I love them! They are more 'cloth' like than 'wipe' like which makes for a nicer experience. They may be slightly more expensive then other brands, but I find I don't use as many at a time so a pack of Honest wipes lasts me a lot longer than the wipes I've tried. They are everything you need in a baby wipe and more–they're thick and sturdy, they don't fall apart, and they're moist enough to get the job done without being too wet. As a mom, I also love that they're made with a gentle botanical blend that's great for my kids' eczema-prone skin. And I love that they're also amazing for adults – I keep a pack in my purse to use on myself.
The Honest Company Face + Body Lotion: Rounding out my top 3 picks is the nourishing, moisturizing Face + Body Lotion. It's got a great creamy texture that absorbs into skin quickly with no greasy residue, and a light, pleasant scent. My favourite thing about it is that it's pure, allergy-friendly, and plant-based, which is a must when you have kids that have sensitive skin. And I love that the whole family can use it! I keep one in the bathroom and one in the kitchen as I am constantly moisturizing their dry skin all day long (I will save my blog on being a mom of kids with eczema for another day!).
Erin – our CMO – has her own top 3 list: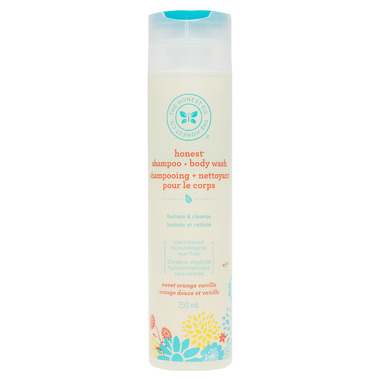 Shampoo & Conditioner: I LOVED these. The first thing you'll notice is the amazing scent – just like a creamsicle! The smell isn't strong enough to be overpowering, but definitely enough to put you in a great mood in the shower. The shampoo gave a great lather and left my hair feeling clean for days. The shampoo doubles as a body wash, which is a great time saver for a busy mom (every second counts!). I used this tear-free formula on all of my children and love that it helps us simplify and use one product for the whole family, including baby (right now our bathroom is cluttered with different shampoos for almost every family member). The conditioner was also a big hit. I loved that it left my hair super soft without having to use a lot. Bonus – it worked wonders on three-year old daughter's crazy curls! It detangled beautifully and her curls looked gorgeous once they dried. Curly girls and guys, you'll want to add this one to your list. These products were a hit in my family who tried them – my mom can't wait to order them from Well.ca!
Face + Body Lotion: Like Rebecca, I love that it's clean, pure, and made with natural ingredients. It's fragrance-free, but it did have a subtle scent from the botanical ingredients, which I didn't mind. I love that it's made for both face and body. Extra points for products that do double duty! It's not too thick or greasy, which makes it great as a face lotion, even when layered with sunscreen. This is another great product that I look forward to using for the whole family.
What do you love most about The Honest Company? Tell us in the comments!