5 Essential Vitamins for Kids
We know life is busy. We know mornings are hectic. We know it's difficult to keep everyone organized. We know a lot of kidlets are on one form of a restricted diet or another. We know a lot of kids are extremely active or they just don't like certain foods. We know all this. We also know that these days, kids (and parents!) are busy from the minute they wake to the minute they finally consent to go to bed in the evening.
Given these realities, those well-rounded, totally healthy, full-of-the-proper-vitamins-and-nutrients, home-cooked meals aren't always possible. That's why your family doctor may recommend—or you may choose to investigate on your own—a daily multivitamin or mineral supplement for your child.
Okay, so you've come to that decision. Where do you go from here? In the totally confusing 'alphabet soup' of vitamins, minerals and supplements, a few are critical for many growing kidlets:
#1 Vitamin D
Promotes bone and tooth formation and helps the body absorb calcium. Good sources include milk and dairy products as well as fish oil. The best source of vitamin D is sunlight, which in our climate becomes more and more scarce as the school year progresses.
We recommend: Delicious D for Kids Orange Vitamin D3 Liquid Drops. They are a natural, convenient and additive-free way for adults, infants and kids to get their vitamin D3 in a deliciously, yummy flavour.
#2 DHA or Docosahexaenoic Acid
DHA offers the primary building blocks for the development of your child's healthy brain, central nervous system and vision.  It plays a key role in brain development, enhances visual and cognitive functions and improves motor skills.
We recommend: Platinum Omega Pure Brain Liquid; formulated to help with the development of your child's healthy brain, central nervous system and vision.
#3 Superfood Chewables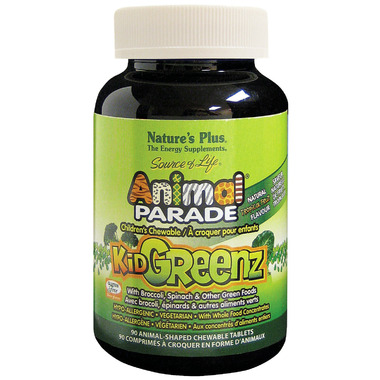 Parents of picky eaters, rejoice! While kids should still try to eat a balanced diet, including things like broccoli and other greens, sometimes it's impossible to coerce them into it…or sometimes there just isn't time. For these days, why not supplement with a chewable that has all they need?
We recommend: Nature's Plus Animal Parade KidGreenz Superfood Chewables. They  feature broccoli, spinach, spirulina, chlorella, kelp, lactic flora growth accelerators and other nutritional powerhouses that are often absent from kids' diets.
#4 Vitamin C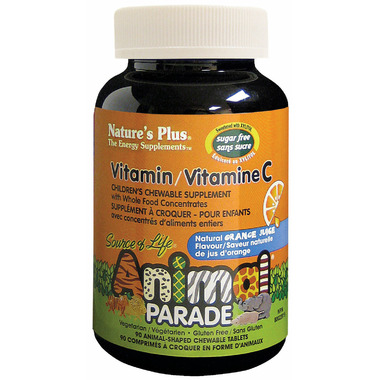 Vitamin C is crucial for children's good health and development, and while it is preferable for them to fulfil their vitamin C requirements with fresh fruits and vegetables, we know that sometimes this just isn't possible. You can supplement their diet with vitamin C but not too much! Children ages 1 to 3 should not get more than 400 mg of vitamin C a day. Children ages 4 to 8 should not get more than 650 mg a day.
We recommend: Nature's Plus Animal Parade Sugar Free Vitamin C, the orange juice-flavored chewable vitamin C formula made from whole food concentrates! This special Vitamin C blend for children includes citrus-based bioflavonoids, along with grape seed and bilberry extracts and concentrates of mango and papaya.
#5 Multivitamin
A multivitamin offers a simple strategy for supporting the nutritional needs of children. Just beware of Megavitamins—large dose vitamins—aren't a good idea for children. The fat-soluble vitamins (vitamins A, D, E, and K) can be toxic if kids overdose; same with iron. Kids can  get too much of a good thing.
We recommend: Progressive Multi-Vitamins for Kids. They offer a simple and comprehensive strategy for supporting the nutritional needs of children.
If you have any concerns about your child's diet, the best thing to do is talk to your pediatrician or family doctor. They can give you feedback on your child's diet, as well as assess whether or not your wee one needs to take vitamins or supplements.
Do you take a supplement or vitamin? Do your children? Are you thinking about supplementing their diet with one?