The Ultimate 2022 Sunscreen Buying Guide
Can you feel summer coming? The days are definitely getting longer, and the sun is getting stronger. The birds are chirping in the mornings and the wee squirrels have started peeking out from the trees. Summer 2022 is finally(!) on its way, and we are here for it–even if most of Canada is still attempting to hibernate.
Of course, warmer weather's imminent arrival means we are all in need of some serious sun protection. And since not all sun protection is created equal, we're here to help you choose the best type, protection level and formula for each member of your family, depending on what they need and want
WHAT TYPE AND LEVEL OF PROTECTION SHOULD YOU USE?
SPF (sun protection factor) measures the length of time a product protects your skin against reddening from UVB rays, compared to how long the skin takes to burn without it. For example, if it takes twenty minutes to begin reddening without protection, using an SPF 15 sunscreen theoretically prevents it for up to fifteen times longer—about five hours. To maintain the SPF, make sure to reapply sunscreen every two hours and right after swimming or activity.
A hydrating face lotion is a key morning skincare step—and a moisturizer with SPF is critical for helping to protect the skin from damaging UV rays.
The Canadian Cancer Society recommends using an SPF of at least 15—or 30 if you are going to be outside for a full day, are sun-sensitive, have previously had skin cancer, or have an increased risk of developing skin cancer. An SPF of 15 blocks 93% of UVB rays and one of 30 or higher blocks 97%.
Broad-spectrum protection: This means that a product shields against UVA as well as UVB rays. Most broad-spectrum sunscreens and sunblocks with an SPF of 15 or higher do a good job against UVB and short UVA rays; if they also contain avobenzone, zinc oxide, or titanium dioxide, they should be effective against the entire UVA spectrum.
Even with the ideal sunscreen, some UV rays can get through to your skin and cause damage. The Canadian Cancer Society states that "…sunscreens are not meant to be used so that you can stay out in the sun longer. They are meant to increase your protection when you have to be outside. Use sunscreen along with shade, clothing and hats, not instead of them."
FOR BABIES & KIDS
Looking for sunscreen and skincare for the wee-est of family members? We recommend these kid-friendly, gentle formulations that are easy to apply (trust us, this is a huge bonus).
Thinksport Kids SPF 30 Mineral Sunscreen Spray
This dermatologist-recommended, non-nano spray-on broad-spectrum sunscreen protects skin of all ages. With aloe and vitamin e, this is the perfect fast-acting protection for littles who can't wait to get outside.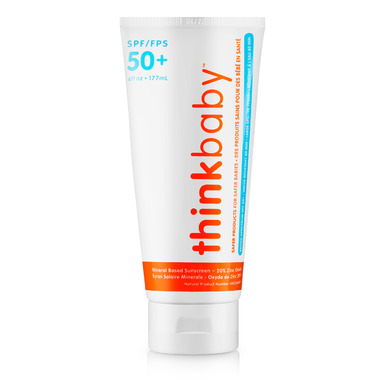 Thinkbaby SPF50+ Safe Sunscreen
Whether it's for a trip to the park or the cottage, this sunscreen will protect littles from the sun's harmful rays. Even better? It goes on quickly, is water-resistant (up to 80 minutes), and has a broad spectrum SPF.
Babyganics SPF50 Mineral Sunscreen Lotion
This all-mineral formula provides broad-spectrum UVA/UVB protection and glides on for easy (and fast!) application. Bonus: it's non-allergenic and tear-free, so it can go on your babe wherever the sun might shine.
Baby Badger SPF50 Clear Zinc Sunscreen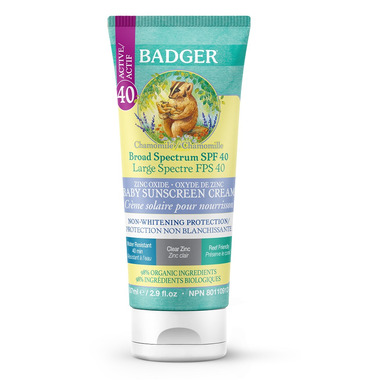 Just as safe and effective as standard zinc oxide, this sunscreen starts out white but rubs in clear. Perfect for the beach, swimming and light activity, this broad-spectrum formula is in a gentle, antioxidant-rich Sunflower Oil base.
FOR YOUR FACE
We are all about low-effort makeup in the summer but don't want to sacrifice protection. These sunscreens are an excellent addition to everyone's morning routine–and you won't even know they're there.
COOLA Mineral SPF30 Full Spectrum Sun Silk Creme
Get effortless protection with this airy, antioxidant-rich formula that helps minimize free radical damage while promoting radiant, youthful skin. Its organic, oil-free formula provides broad-spectrum UVA/UVB protection while mitigating the effects of HEV light (including blue light) and pollution.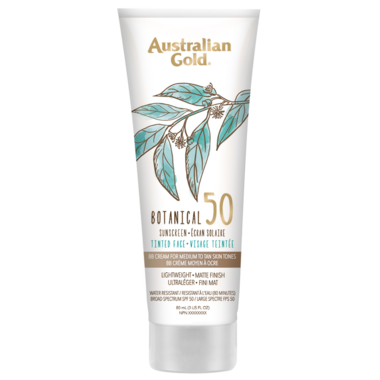 Australian Gold Botanical Mineral Tinted SPF50 Face Sunscreen
Great protection and a makeup primer or light foundation…? Yes, please! This oil-free dermatologist-tested powerhouse comes in multiple shades and seamlessly blends to minimize uneven colour, fine lines and wrinkles. Also, it's vegan, cruelty- and fragrance-free, hypoallergenic and reef-friendly.
Blue Lizard Sheer SPF 50 Mineral Face Sunscreen
Meet your new everyday sunscreen that provides protection on the down-low by drying clear. Bonus: it protects skin from damaging blue light while nourishing and moisturizing with a blend of hyaluronic acid, antioxidants, vitamin E and shea butter.
MOISTURIZE ALONG WITH YOUR FACIAL SUN PROTECTION
Choosing a good facial moisturizer that also contains SPF keeps your skin moisturized while protecting it from the sun, preventing wrinkles and fine lines.
Derma E SPF 45 Brightening Weightless Moisturizer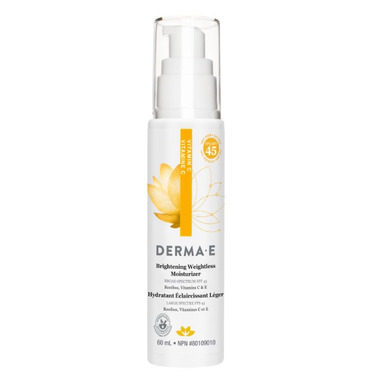 We love this lightweight, multi-purpose moisturizer that works to brighten, hydrate and prime while also providing UVA/UVB sun protection with 20% zinc oxide.
Origins GINZING SPF40 Energy-Boosting Tinted Moisturizer
Hydrate, energize, perfect and protect in 1 step! This tinted moisturizer with coffee and ginseng gives an instant boost while adding a sheer tint for a flawless finish. Skin looks vibrant, healthy & radiant (and the SPF keeps it that way).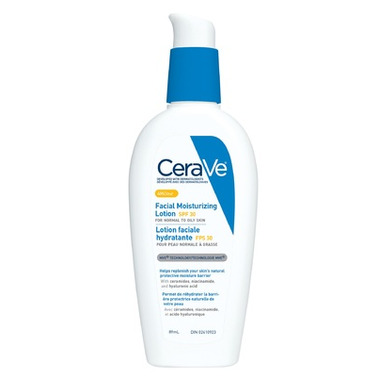 CeraVe Daily Facial Moisturizing Lotion with SPF30
This skincare multitasker features 3 ceramides, hyaluronic acid and niacinamide, to help restore the skin barrier, retain hydration and soothe the skin. Its non-comedogenic formula with SPF30 and patented time-release delivery technology is excellent for all skin types.
TINTED SUNCARE
We admit it—we're obsessed with tinted SPF. They pack a punch of light coverage (so they can often take the place of makeup) while giving skin a flawless look and protecting against UVA/UVB rays and blue light.
La Roche-Posay Anthelios Mineral Tinted Ultra Fluid Lotion with SPF 50
This broad-spectrum UVA/UVB tinted mineral sunscreen is quick-absorbing, fragrance- and paraben-free, non-comedogenic, and water-resistant. It will leave you with a matte but healthy-looking, natural glow.
Sun Bum Mineral SPF 30 Tinted Sunscreen Face Lotion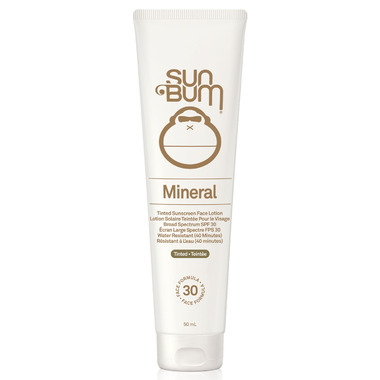 Want to go au naturel? This lightweight, silky, SPF 30 mineral tinted sunscreen face lotion glides on like butter and provides a chemical-free sunscreen and primer with a matte finish. Use alone or under your makeup.
Attitude Tinted Unscented Mineral Sunscreen Face Stick with SPF 30
This new tinted SPF 30 sunscreen stick offers optimal sun protection while leaving skin feeling smooth, hydrated and glowing. It is hypoallergenic and dermatologically tested, vegan and coral reef friendly. Bonus: for each product sold, ATTITUDE plants a tree!
MAKEUP THAT ALSO HAS SPF
DNA damage, premature aging and skin cancer are reasons we advocate daily sunscreen usage. They're also why we've decided to be extra diligent this year by adding makeup with SPF to our routine. You can never be too prepared, right?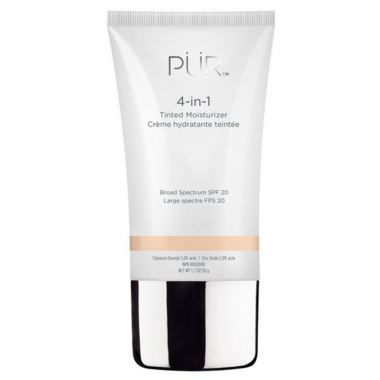 PUR 4-in-1 Broad Spectrum SPF 20 Tinted Moisturizer
Skincare meets makeup with this 4-in-1 (moisturizer, primer, foundation and broad-spectrum SPF). Formulated to enhance your complexion by brightening, hydrating, correcting and plumping while it protects at the same time.
bareMinerals Well-Rested Under-Eye Brightener with SPF 20
Look instantly wide-awake with this innovative eye brightener. Its lightweight formula goes on gently to visibly diminish dark circles while the SPF 20 offers added protection against the sun's harmful rays on your delicate eye area.
Derma E Sun Protection Mineral Powder with SPF 30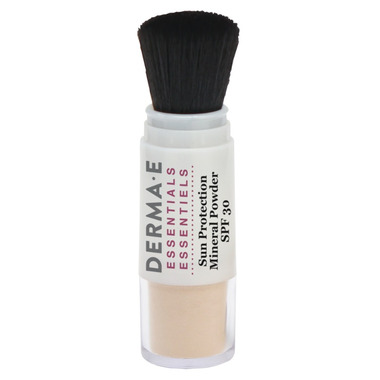 Give your skin the ultimate flawless finish; this powder helps absorb oil and protects your skin from UVA & UVB sun rays. Simplicity and protection at their best!
EVERY DAY, EVERY BODY SUN CARE PICKS
Everyone needs sunscreen and we want to make sure you get one that is perfect for your skin. These are a few of our favourites that are great for every single day and for every single body.
Blue Lizard Sheer Mineral Body Sunscreen with SPF 50
More than just sunscreen, this lotion contains shea butter and vitamin E, leaving skin soft and healthy. With 80 minutes of water resistance, it's great for running errands and catching waves. Because It's also paraben- and fragrance-free it's perfect for sensitive skin.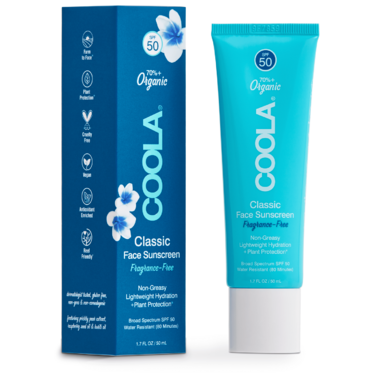 COOLA Classic Face Sunscreen Fragrance-Free SPF50
Put your best face forward with this sheer, hydrating, organic, broad-spectrum UVA/UVB protection that is formulated with an antioxidant-rich plant protection complex. The fragrance-free sunscreen provides light-as-air protection that is great on its own or layers perfectly under makeup.
Avene Very High Protection Mineral Cream Sunscreen SPF 50+
This rich, hydrating mineral sunscreen is broad-spectrum, long-lasting, protective and effective UVB/UVA protection. With optimal skin tolerance for the whole family and Avene Thermal Spring Water, which is recognized for its soothing, anti-irritating and softening properties.
SPORT AND WATER-RESISTANT SUN CARE
Sunscreen that is made for sports is fantastic for taking on vacation or even on long walks in your own neighbourhood. Water and sweat resistance for an extended period of time is the perfect way to protect yourself and your family.
Thinksport Clear Zinc Sunscreen Spray SPF 50
This lightweight and sweat-resistant sunscreen is enriched with safe, chemical-free, science-backed ingredients that protect from future sun damage. This spray-on formula is highly effective for long hours in the sun and is eco-friendly and reef-safe.
All Good SPF 30 Sport Sunscreen Lotion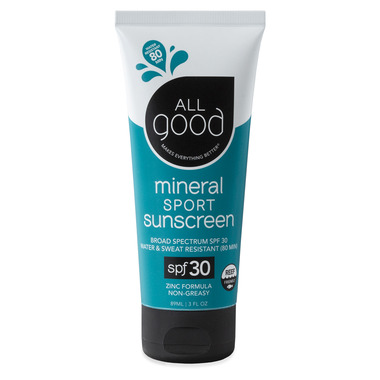 This SPF 30 sport mineral sunscreen lotion covers the basics (broad-spectrum UVA/UVB protection and water-resistant) but goes the extra mile with a commitment to reef-friendly ingredients that are lightweight, non-greasy and actually hydrate and repair skin.
Sun Bum Mineral SPF 50 Sunscreen Spray
Quickly and easily protect skin with this mineral sunscreen spray with broad-spectrum SPF 50. Easy to apply, it provides protection made of safe minerals to protect skin from UVA/UVB rays.
GET THAT SUNLESS GLOW
Go ahead and skip the skin-damaging sun and get your glow on the safe way with a faux tan that looks so real no one will believe it's from a bottle.
St. Tropez Instant Glow Body Bronzer Light
Give your skin an instant glow up with this next generation, no commitment body bronzer for an instant skin-perfecting glow that lasts all day with streak-free results that are transfer and water-resistant.
COOLA Sunless Tan Gradual Sculpting Mousse
Fast-track to a healthy, natural glow and reveal your inner sun(less) goddess with this streak-free and transfer-resistant tanning mousse. This natural, vegan lotion derived from sugar beets creates a tan within hours while it makes skin beautiful and smooth.
Clarins Self Tanning Milky Lotion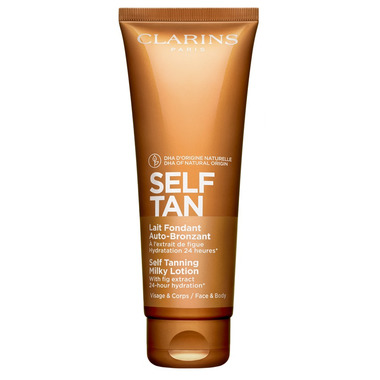 Perfect for summer prep, this 2-in-1 gives your skin an even and natural-looking tan. Its formula—rich in organic fig extract—hydrates the skin, leaving it soft and smooth and with a golden glow that lasts.
TAKE CARE OF YOUR SKIN AFTER BEING IN THE SUN
In addition to using sunscreen, after-sun care is extremely important. Sometimes you get a bit too much sun even if you're careful; in addition, the wind and the heat dry out the skin and you'll need a little rejuvenation after your day of fun in the sun.
Australian Gold After Sun Moisturizer with Hemp Seed Oil
This after-sun hydrating lotion with hemp seed oil helps extend tan longevity and increase moisture to the skin. It can be used as part of your skincare routine as an everyday moisturizer to keep skin hydrated all year long.
ATTITUDE After Sun Stick Mint & Cucumber
This after-sun balm with soothing and repairing calendula extracts and refreshing cucumber and mint is vegan and coral reef friendly. It goes on smooth and helps to soothe irritated skin, relieving tightness and leaving it silky soft and hydrated after fun in the sun.
Sun Bum After Sun Cool Down Gel
Of course, it is always best to prevent a sunburn, but if you do happen to get one, this soothing gel is a lifesaver. Vitamin E enriched, this aloe gel will rehydrate your sun-baked skin, ease the pain of a burn and help prevent peeling.
Written by Jennifer Hamilton