You Need to Try These Healthy (& Delicious!) Snacking Swaps
Just like good meals, nutritious snacks require the 3 P's: Prudence, Preparation and Planning. With car trips and camping expeditions on the schedule, packing healthy snacks will be mandatory. Make sure you exercise those 3 P's and plan healthy snacks, prudently choose the good over the bad and prep yourself for your kids' huge smiles. For snacks that silence grumbling tummies without the guilt, try one of these healthy options. In other words, snack on THIS, not THAT.
Nature's Gatorade
Next time your sporty, sweaty kidlets are in need of hydration hand them a Coconut Water rather than the usual sports drink. It has all the same electrolytes as those sport drinks and does not contain the sugar, salt and artificial ingredients that we don't want to be giving our wee ones. This is great for us too (since we're out in the sun all day, watching the baseball and soccer games). Coconut Water truly is Nature's Gatorade.
Feed the Salt Craving—In a Healthy Way
Next time you need salt (it happens, we know!) don't just automatically reach for that regular bag of potato chips. Simply satisfy your cravings with Simply 7 Quinoa Chips.  These chips are high in protein, they are gluten and cholesterol free and they will easily satisfy that craving without any of the regular chip guilt.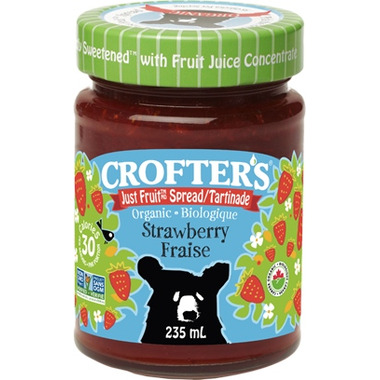 Take P, B & J to the Next Level
P, B & J (or C C & J [*Cream Cheese]) is the best sandwich in the world—especially when the jam is as delicious and healthy as Crofter's Organic Strawberry Just Fruit Spread. Sweetened with fruit juice instead of sugar, this jam is a powerhouse ingredient in the sandwich our kids love.
Picky Eaters Will Pick This
Kids love fruit leathers. Who wouldn't…? They're sweet and yummy and so easy to grab on the go or toss into a bag. We can one up the fruit leather with a fruit-and-vegetable leather called Veggie Go's. This snack has nothing but veggies and fruits. Nothing else, if you can you believe it. Organic and fun, picky eaters will love them and will amazingly get a half serving of fruit and vegetables in each pack.
Swap Out Butter For Something Better
Butter is a delicious indulgence, but did you know that it can be swapped easily with the biggest food trend right now—coconut oil—practically anywhere? It's the perfect ingredient to use when baking, sautéing or popping your popcorn instead of using oil. Coconut oil has tons of uses both internally and externally and we adore the smell and flavour.
When the Kids Want a Freezie, Give Them a Super Fruit Version
When your family wants to cool off this summer, give them a Super Fruit Freezie. Delicious fruit ices with no added sugars, artificial flavours, colours or preservatives will wow them (and replace the sugar-water freezies they think they want). These travel well since they're shelf stable, and come in three flavours. Free of artificial ingredients, these freezies are dairy & gluten free, vegan and the kids will love them.
Satisfy Your Inner Crave Man
Mighty Bee is an awesome organic and vegan version of jerky made right. A gently dehydrated plant-based snack, made from Thai Coconuts, it's high in fibre and free from gluten, refined sugar, preservatives and dairy. Chewy. Tangy. Mouth-Watering. Delicious.
What's your go-to snack? Is it healthy or not-so-healthy…?