Vitamins
Getting To Know Garden of Life
Sponsored by Garden of Life
The weather outside is cooler and the comforts of staying in are too enticing. With it comes a feeling of lethargy. Combat that feeling with restorative, healthy supplements that lift your mood and help beneficial gut health thrive. We believe it's totally possible to keep yourself healthy through the dreaded cold and flu season. Aside from eating a healthier diet and being more active, restorative supplements can boost your mood and help keep you feeling energized and revitalized.
We're getting healthy with one of our top brands Garden of Life (how great is that name?!). Since the very beginning, Garden of Life's mission of Empowering Extraordinary Health has focused on offering Certified Organic, Non-GMO Project Verified, whole food based supplements thatt are free of synthetic and artificial ingredients.
Probiotics
They've recently developed the Dr. Formulated line of probiotics, enzymes and fiber – to not only support healthy digestion but also maintain a strong immune system and even balance our mood by lowering stress hormones. Renowned neurologist and #1 New York Bestseller author Dr. David Perlmutter is the formulator behind this new line of supplements. He emphasizes that our modern ways of living can contribute to an imbalanced gut bacteria.
If you're looking for a powerful probiotic supplement to add to your daily health plan, Garden of Life's Once Daily Probiotics havebeen formulated with 14 probiotic strains that support and enhance both digestive and immune health.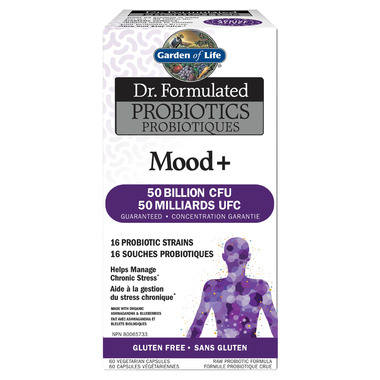 Our mood can be negatively affected by our unhealthy gut, making us feel sullen and crabby. Add stress, and you've got a recipe for gut distress, and feeling unwell. Garden of Life's Mood+ Probiotics supports mood and emotional well-being by kicking it up a notch with probiotics. Bonus: They're gluten free!
Protein Powder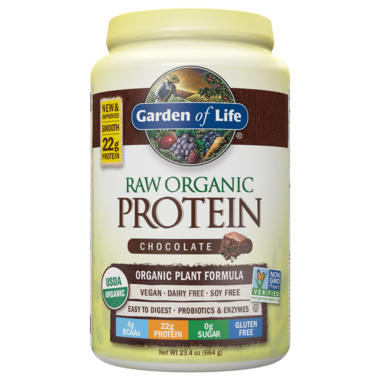 In addition, when your blood sugar levels are on a rollercoaster ride, so is your mood. Increasing your intake of protein will keep you feeling full for longer but more importantly maintain healthy blood sugar levels, balance mood and support energy levels.
This sprouted, gluten-free and dairy-free protein is vegan without added chemicals, preservatives, and fillers. So vow to head into this holiday season, or the New Year with a fresh, healthy start in mind.
Choose wisely and get healthy with Garden of Life!
Since the very beginning, we've chosen the purest, cleanest, highest quality whole food ingredients possible. We're uncompromising about your health. Slow it down, make it by hand, grow it in rich organic non-GMO soil with enough sun, air, water and time for it to be its best. Harvest it when ready. Treat it with care. Turn it into a power-packed nutritious food supplement. That's what we are about.