Brand Spotlight: NOW Foods
Started in 1948, NOW Foods is committed to providing great value products that empower people to lead healthier lives. With a huge range of products that includes dietary supplements, healthy natural foods, essential oils, hair care and skin care products and lots more, NOW Foods is all about helping you stay healthy from head to toe and from the inside out.
5 of my favourite NOW Foods picks:
If you're not already using coconut oil, you need to start! This 100% natural oil is great alternative to traditional oils in cooking and baking, but it's also a beauty-boosting powerhouse for skin and hair. Coconut oil is one of the only oils that's able to penetrate the hair shaft and the deepest layers of skin, which lets you really soak in all of its moisturizing benefits.
My favourite ways to use it are massaged into wet skin after a shower to lock in moisture, and smoothed into my hair and scalp before shampooing for soft, healthy, shiny locks.
2. NOW Essential Oils Tea Tree Oil

I'm obsessed with essential oils, and Tea Tree Oil is definitely the one I use the most. It's been used for centuries to treat skin injuries like minor burns, scrapes, and stings. It's definitely at home in my first-aid kit, but my favourite way to use it is as a super easy, super effective spot treatment for breakouts. Just dab a drop of Tea Tree Oil on your pimple for a chemical-free zit fix that works overnight.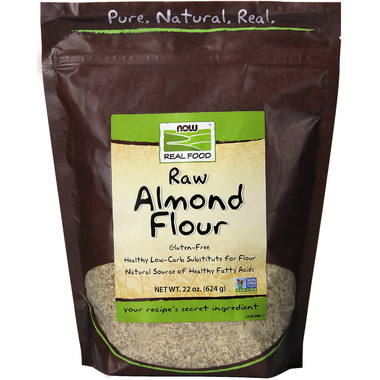 3. NOW Real Food Raw Almond Flour
Almond flour is a healthy, tasty alternative to traditional bleached white flour. It's super easy to sub out for white flour in recipes (just slightly reduce the amount of liquid you use), and it's gluten free and low-carb, making it a must-have for your healthy pantry.
4. NOW Solutions Vitamin C and Sea Buckthorn Moisturizer

If you have dry, dull skin that's in need of some TLC, this moisturizer is going to be your new BFF! It's made with Vitamin C and Sea Buckthorn that works with your skin's natural chemistry to give you awesome skin-boosting results. It improves elasticity, mends minor flaws and imperfections, and brightens dull areas and dark spots….all while giving your skin some much needed moisture!
5. NOW Solutions Ultrasonic Real Bamboo Oil Diffuser

Made with real bamboo, this gorgeous diffuser is the perfect blend of innovation and aromatherapy. I love that it's heat-free, because it means no risk of burns and it keeps the holistic properties of your favourite NOW Essential Oils.
Don't forget to tell us what your faves are in the comments!
NOW Foods makes natural products that empower people to lead healthier lives. Find vitamins, supplements, essential oils, beauty products, food & more.