Unique ways to get relief with Essential Oils
If you're like me, you'll do absolutely anything to prevent or get rid of a cold. I've tried it all and I'm here to tell you what really works!
Unfortunately, there is no magic track to immediately feeling better. There are only things to help make a cold slightly less miserable – and for me, I'll take any little hint of relief.
We all know the tried and true essential oils for cold and congestion relief are ones like: Eucalyptus, peppermint and a citrus like lemon or orange. A few others to consider for feeling better are chamomile, ginger and frankincense.
Here are a few ideas on how to incorporate a few drops of essential oils to get the aromatherapeutic relief on your worst cold & flu days:
Not everyone loves baths. I'm personally not always up for one, but when I'm sick it is one of the few things that significantly helps me feel better! These bath salts have essential oils like eucalyptus, tea tree, and rosemary so it's one of my go-to's for a quick feel-better fix! You can always make your own relaxing bath with epsom salts and a few drops your favourite cold relief essential oils directly into the bath water.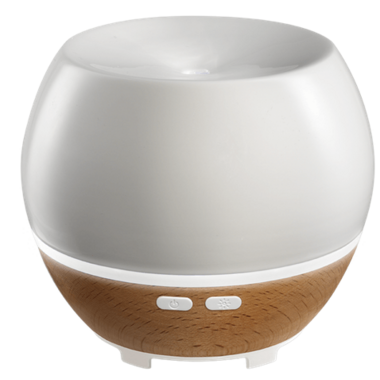 If you have a sore throat, cough or any sort of congestion, the number one take away is an ultrasonic essential oil diffuser that uses water. Having trouble falling asleep or staying asleep when you're sick is one of the most uncomfortable feelings. Put a few drops of eucalyptus essential oil in a diffuser on your bedside table and guaranteed you will sleep better then it not being there. The fine mist adds much needed moisture to the air at the same time as delivering the soothing aroma of your essential oil. Sometimes I also like to add a drop of lemon or ginger.
A different way to incorporate soothing essential oils while you're trying to get relief from a cold is by washing your bed sheets. Once your sheets are ready for the dryer, put 1-2 drops of peppermint essential oil on a wool dryer ball and toss it in. Since you'll be spending a lot more time napping off your cold, that extra boost of soothing essential oil scents in your cuddly sheets will be just the comfort you've been needing!
Another great way to get soothing scents into the air is with a candle. A candle also gives that little bit of extra warmth your shivering body craves. Curl up on the sofa with a big blanket and light a candle with antibacterial healing essential oils like gardenia to make the sick days go by just a little bit quicker!
Any bit of relief is worth having when a cold or flu hits. With these little tips I hope your cold and flu is just that little bit less miserable!
What are your favourite essential oils for a cold?
A creative graphic, web, multi-media designer and artist. Lover of hockey and adorable animals.